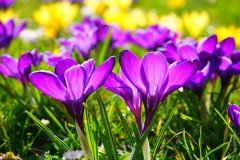 Morning All! It's a gorgeous spring morning so I thought I'd stop in and say hello! The crocus photo above is not in my yard. Mine are up, but a sad little group of about 5 are all that came back this year! It's time to get some new bulbs in that bed! None-the-less...that little pop of color is very cheerful and optimistic, and I just love seeing it!
I seem to have shifted pretty severely over to Facebook for the most part, and I'm not sure that has been wise. For one thing, writing out full thoughts in the form of a newsletter is vastly different than posting a quick hello and a breakfast photo, isn't it! It gets to the point that we get accustomed to sweet but short little bulleted communications, and we start thinking that way. Maybe I shouldn't hide behind the word "we" and say ..I!
There have been a lot of things going on over on the Facebook side that are not pleasing to me, data breaches (example: the whole Cambridge Analytica bit-which is still growing), questionable political influencing, Infected advertiser websites, FB recording conversations thru your phone...you name it. Mark Zuckerberg has just spoken to Congress, and once again says he "is sorry"...but really, he's been saying that since 2006. Too little-too late. Sorry is as sorry does. They have way overstepped their bounds, in my opinion. I have deleted FB off my phone altogether, and I am considering removing it from the computer as well.
BUT, and here's the rub...we (and I) do definitely get accustomed to those easy-peezy check-ins with our larger circle of 'acquaintances', don't we! I have to admit that while on one hand, it seems more realistic to get back to living "in my actual life", I'm struggling a little with the idea of walking away from FB too. Addiction rears its ugly head. I can't be alone in this? There's info here on how to either delete (which is permanent) or deactivate (which isn't) your FB...HERE I expect to be "taking a break" soon.
SO GRADUALLY, I have been spending less and less time on the computer, while at the same time, getting busier and busier here at home, learning to fill my hours in other ways. GO ME!
I started working on a new God's Eye quilt recently, that will closely duplicate the first one I made several years ago! Just getting back in the sewing room has been wonderful, as it ALWAYS is! (You can click on these pix if you want to see the mess LARGER) I had the first 6 row's-worth done, and had been happily just sewing along, giving no thought nor rhyme nor reason to the order in which I pieced these. It was just a grab-and-sew, when some one asked if there was a name for these, and yes, because of the concentric formation as the blocks come together it's called a God's Eye (I suppose named for the yarn God's Eye's like these) and all of a sudden, it changed my whole thought process. Suddenly I started staring at the random "eye's that were forming on the design wall...and that morphed into...sewing the Eyes intentionally to make eyes, rather than having them appear randomly. SO now I have made "eyes" that represent Germany, Eyes of the Air Force, Eyes of myself and the girls, yellow eyes...eyes that actually have "whites of the eyes and pupils"...and NEXT I have to decide, just how particular I want to get with the whole quilt!?...or do I just want to go back to total randomness...? I haven't yet decided! Meanwhile, the sewing room is a scrappy mess, and I love it!
| | | | |
| --- | --- | --- | --- |
| | | | |
The next fun thing that happened was that I FINALLY got to replace my glass top stove, which , other than it's appearance, has been a thorn in my side almost since we got it! For some reason this silly stove just COULD NOT hold a steady temperature! If you set a burner on medium, rather than staying on at medium intensity, it cycled off and on at HIGH intensity, but for shorter periods of time. SO trying to keep something at a low and steady boil , WITHOUT scorching, was nigh-on impossible! SO....Bye-Bye and welcome NEW plain old stove! As a test I did a pan of scrambled eggs, and you just don't know how wonderful it was to set it on medium and have it STAY THERE. Brings a tear to my eye, it was so beautiful! LOL! We don't have natural gas in this area, nor is my house piped for propane, so we just went with a plain old electric stove, and so far...I am loving it! 'Kind of hate to have it get dirty!
It being April, we are now counting down the days to "Ice Out" on the lake. I've been taking Katie the Wonder dog for a ride around the lake every few days, and the ice is definitely darkening now! Last year the ice went out April 17th. Oh WHAT will it be this time? I am guessing the 15th!(I think I have never guessed it right by the way! LOL)

In really awesome news, Joe has decided to come along on the LONG ANTICIPATED trip to Germany! So at some point, hopefully sooner rather than later, maybe as soon as late this summer or early fall, Joe and I and my ex, Dale and his wife Louise will be taking a trip over! We are still working out the timing. Cross your fingers folks! I an SO looking forward to this! I haven't been back since 1988, and I need to fill my tank with some old Europe beauty!
I've been trying my hand at making bread again lately. Last week I made a really simple 5 ingredient Honey white bread (this recipe)....easy easy bread to make, but wow. EXTREME HONEY. So, for those of you who love that honey taste-you might really like that! Then yesterday I tried another Pinterest find-"My Favorite White Bread" This one was a more traditional recipe, but called for the whole deal to be mixed in the stand mixer. For me, that was very different, as I have always done breads by hand. In the end, I worked in the whole amount of flour that was asked for, but knew better even as I did that. It's tasty, but DENSE. It makes Fabulous toast though! For myself, I'd go back to working by hand, as I am sure I would have FELT that dough getting too stiff, and avoided that! Those of you who are comfy with the stand mixer method might really like it as is! ( take a note...it does NOT need the whole 9C of flour) It's being a blast making breads again, and I love knowing what's in it, and that it is NOT loaded with preservatives!
I feel like Marcia, doing things like that...getting back in the sewing room, futzing around in the house, working in the kitchen, saving a buck by washing out Ziploc bags. I've missed this girl :o) Any of you who have been sick for a long time will know what I mean when I say, you lose yourself in there for a while. It feels so good to get your old self back!
Any ways...all for now! This felt nice
Have a Great Week All!
Marcia :o)
" A single crocus blossom ought to be enough to convince our heart that springtime,
no matter how predictable, is somehow a gift, gratuitous, gratis, a grace." David Steindl-Rast