Rabbit! Rabbit! Rabbit!!



All moved in to camp as of the 9th of June, and settled in quite nicely! We are still getting copious amounts of rain, but like Camp Granada, when the sun comes out, it is heavenly! Right now it is sunny! My brother Sam got here on Sunday, and is already at work replacing outer window sills on his porch! Inspirational...and yet...here I sit typing...LOL!
Random camp photos...
View of the lake taken through the screen

MUD from all the darned rain

....and the rockers on the front porch!

LOOK! I actually am working on some blocks this summer!! SHOCKING, I know!
We have my friend Peg to thank that I am sewing...she's been posting MANY quilts she's been working on, and I kinda got it in my head that I'd like to make a rag quilt for camp. I even bought the fabrics! I can't in good conscience START the rag quilt 'til I finished the last 18 blocks of the one I am supposed to be working on...so... I am! Today, by the way it feels as though we are at about 100% humidity, and I am realizing a flannel rag quilt will be deathly hot...oh well...it will LOOK nice any way! LOL

Back at home, two days after I moved down here, we DID have a man come and remove my summer kitchen. It's going to seem crazy to open that kitchen door and BOOM...step outside! Especially if we don't get some stairs built! :o) Watch That First Step!!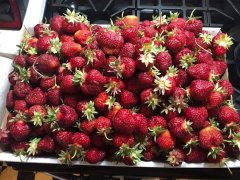 Tomorrow Morning...at (UGH!!) 5:30 AM, I am meeting my cousin DB to go Strawberry picking in a nearby town. I haven't been for several years, so really looking forward to it, despite the hour! I'm planning on trying a new Freezer jam recipe, plus we MUST have a Strawberry Rhubarb Pie, a Strawberry Shortcake Dinner AND fresh berries...and some for the freezer! Who am I kidding? I need to go more than once! I feel the same way about fresh strawberries as I do about Fresh tomatoes...so FINE! ****** NOTE!! THAT RECIPE DID NOT GEL CORRECTLY!! I recommend you make your Jam using your own favorite recipe!!

Now I need to get some housework done, and yard work between the raindrops! I hope you all have a lovely Independence Day!
Have a Great Quilting Week All! Hope you are working on something fun!
Marcia :o)
" Procrastination is the bad habit of putting off until the day after tomorrow what should have been done the day before yesterday."
Napoleon Hill